It's that time of week again!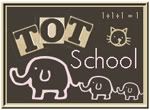 Boogie is 23 months old
Hubby had a long weekend thanks to Labor Day, so we got to go on an adventure- our first field trip as a family of four to the Please Touch Museum. We took Boogie to an aquarium last summer,but we haven't done any day trips since then. So we were very excited but also apprehensive since we were taking two kids and it was a long drive. We told Boogie we were going to go on a trip to find circles and cars. Little did we know!
Boogie didn't want to go inside! He was perfectly happy pointing at the giant circle. He must have said "circa!" about a million times. Thankfully there were cars inside.
There were lots of cars actually! And a bus that was a big hit. It's a great place, but was very crowded and poor Boogie kept getting bull-dozed. Both boys behaved really well and we considered the whole day a success!
This week, Boogie also got to play with chalk for the first time, and we made, what else, circles!
We are starting some official schooling this coming week, doing the letter A, apple, a Bible verse, and the story of Adam and Eve. In preparation for that, I bought some new fruit magnets for the fridge, which Boogie really enjoyed.
His
back to school sensory bin
was a HUGE hit! Even though he thought the calculator was a phone.
We also did our first apple worksheet. In a funny coincidence, my mom brought over my old copy of "The Giving Tree" and Boogie has been LOVING anything to do with apples recently. So I am very happy that our first "unit" is apples.
We have been reading the story of creation and of Adam and Eve the past few days at breakfast, along with looking at the cabin calendar. I have everything organized for his calendar time, it is just a matter of putting it together. I am so hoping to get it done this weekend! We have also starting singing our ABCs, while jumping on the alphabet mat we used in our last house when he was rolling and crawling. We had hardwood floors so it was a bit of a cushion. Now we are using it again as a fun learning tool for letter recognition.
We have been jumping on the letters, using it like a puzzle, throwing a bean bag and talking about what letter it lands on, driving cars across it and talking about what letter it stops at, and talking about the circles, semi-circles, and triangles in the letters.
Besides all that, we have been having a lot of pretend play time with pom pom balls, spoons, bowls, and our collection of containers. He is loving "cooking" pom pom balls this week. The play dough has come out every day too, and lots of circles, stars, and hearts have been made than squished. Anyone know a good shape set of cookie cutters? I would love triangles and squares and crescents and things like that but can't seem to find a shape set.