It's that time of week again! Time for all of you wonderful and creative moms and teachers to show off the fun ways you keep activities contained! Whether it's on a tray, in a bin, or in a workbox, this is the place for you to share your stuff :)
Last week, my first WOTT party, had 11 links, which I am pretty happy about! Thank you to everyone who participated! Hopefully the party will continue to grow, and I also hope that those of you who linked up got some extra traffic.
Most Clicked Link:
This is the part where I share who was the "most clicked" link last week. Drum roll please...
Hooray for
1 Mommy's Journey
! I included the picture of my favorite tray that she posted- a letter matching mitten activity. She has 12 trays (including this one) with all kinds of fun winter activities.
My Fave Three:
It was hard to choose favorites because I loved all the trays and bins people linked up, but here are three that really caught my eye.
Brittney at Mom's Heart
created this beautiful winter sensory bin. Her boys not only enjoyed the sensory experience, but also engaged in some pretend play.
Raising Little Rhodies
has a ton of cute trays, but my favorite was this one, with a book about dressing for the weather and some felt friends to dress for the weather too. As a former English teacher, I love book connections. And my Boogie LOVES felt :)
Lastly,
Rockabye Butterfly
had some great opposite work on trays. Not only did she have this great soft or hard sorting tray, but she also has trays for sink or float and heavy or light. She encourages her daughter to guess which category the object will fit into before exploring it, which is a great teaching strategy in any subject!
If you were featured above, please feel free to use this button on your site :)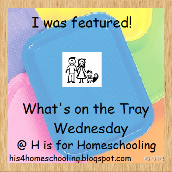 Now, it's on to the second week of What's on the Tray Wednesday!
The following rules are pretty standard across linky parties that I participate in, but it's all worth repeating :)
1. Link up a fun, kid-centered learning tray activity. Please link to the actual post, and not your homepage.
2. This linky party is only for activities that are contained- either to a tray, a bin, a workbox, or whatever else you use to keep one activity in one place.
3. When you link up, please make sure you have included my What's on the Tray Wednesday button or a text link back to my site somewhere on your site (in the post, in your sidebar, on a linky party page). This way other people who are looking for tray activities can come back here and see what everyone else is doing.
4. I would love it if everyone who links up would become a follower of my blog via Google Friend Connect. If you leave a comment letting me know that you are a new follower, I will follow you back. It is always fun to "meet" new people who are doing the same types of things with their kids!
5. Each week, I will feature my three favorite trays from the previous week. So, if you link up, you are giving me permission to use one of your pictures. Hopefully, you will get some traffic on your blog as well :)
6. When you link up, I will visit your blog and comment on the wonderful things you are doing with your kids. Everyone loves feedback and encouragement!
7. Please comment on at least one other blog that has linked up. Again, people blog to connect with each other, and everyone appreciates being appreciated :)
WOTT is linked up
here
.
Can't wait to see what everyone shares this week!