Welcome to another week of What's on the Tray Wednesday! The linky party name is a bit misleading because bins, boxes and bags can join in too! As a former English teacher, I liked the alliteration, and "Show Me Your Contained Activities!" didn't sound nearly as fun :P
There were 17 entries this past week, so thank you to everyone who participated! I had a REALLY hard time choosing three "favorites" to feature because they were all so fun! I am growing such a great list of ideas to try with Boogie, and hope everyone else is feeling inspired too!
Last week, the most clicked link was...
Winter Tray Play at StrongStart
, which was a fun collection of math and sensory tray activities. My favorite was definitely the snowflakes on a scale and I am sorry to report that said scale does not seem to be google-able! Maureen found it at a thrift store.
The three posts I am featuring this week are...
The Cooked Spaghetti Sensory Bin at
Play Create Explore
, which I definitely want to try with Boogie when we do a pasta and pizza week for the letter P. Jessie used real cooked noodles and a salt and red tempera (and I totally typed tempura because my husband is Asian and I am hungry!) paint mixture for the sauce. So brave and so fun!
I love how
Inspired Montessori
gives ideas doing Montessori on a budget by shopping at Good Will and estate sales. I especially love this idea of using a toothbrush holder for sorting!
And a great idea from
Happy Little Munchkins
is to freeze items in a muffin tray then leave her daughter to figure out how to excavate the items. Such great problem solving and sensory fun!
This week, I am including a bonus featured post because for some reason the picture didn't go through and I want everyone to see how fun this idea is.
At
My Montessori Preschool
the children made icicles using pipe cleaners, cut up straws, beads, and snowflakes. This is wonderful for fine motor skills and they look pretty too!
If you were featured this week, please feel free to use the button below!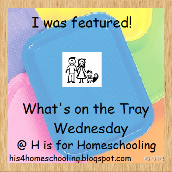 Now, it's on to the second week of What's on the Tray Wednesday!
The following rules are pretty standard across linky parties that I participate in, but it's all worth repeating :)
1. Link up a fun, kid-centered learning tray activity. Please link to the actual post, and not your homepage.
2. This linky party is only for activities that are contained- either to a tray, a bin, a workbox, a bag or whatever else you use to keep one activity in one place.
3. When you link up, please make sure you have included my What's on the Tray Wednesday button or a text link back to my site somewhere on your site (in the post, in your sidebar, on a linky party page). This way other people who are looking for tray activities can come back here and see what everyone else is doing.
4. I would love it if everyone who links up would become a follower of my blog via Google Friend Connect. If you leave a comment letting me know that you are a new follower, I will follow you back. It is always fun to "meet" new people who are doing the same types of things with their kids!
5. Each week, I will feature my three favorite trays from the previous week. So, if you link up, you are giving me permission to use one of your pictures. Hopefully, you will get some traffic on your blog as well :)
6. When you link up, I will visit your blog and comment on the wonderful things you are doing with your kids. Everyone loves feedback and encouragement!
7. Please comment on at least one other blog that has linked up. Again, people blog to connect with each other, and everyone appreciates being appreciated :)
WOTT is linked up
here
.
Can't wait to see what everyone shares this week!