Welcome to another week of What's on the Tray Wednesday! This is a link party for trays, bins, boxes, and bags- basically any way that you contain an activity to help your child focus on one thing at a time and to clean up before moving on to the next thing. We love trays and bins in our house! Boogie gets so excited on Mondays when he sees the new activities.
There was a tie for the most clicked link this week! Here are the two posts.
Deb from
Living Montessori Now
posted a host of Montessori-inspired snowman letter activities at
PreK and K Sharing
. The many ways she shares of using the same printables and concepts in different ways are very clearly laid out and frugal. The variety is wonderful because you can choose the way you like best to use the tools to teach letters. I really want to make some sandpaper letters sometime in the near future!
Kylie at
Parenting in the Moment
shared a pouring, spooning, sweeping tray that I know my Boogie would love! What toddler wouldn't?! She also shares the very popular golf tees and Styrofoam tray and a juicing tray as well, which I find very ambitious and fun!
Again, I had so much trouble just picking 3 posts to feature this week. They are all so wonderful and give me so much inspiration to plan for Boogie! Here are the ones that I finally decided on.
Again,
Lauzi at Happy Little Munchkins
had a tray activity that I had to share. She encouraged her daughter to participate in some small world play by laying out a tray of sand, a variety of miscellaneous items and some dolls. Her daughter used the materials to make a little world for her dolls. This is such a simple concept, but it combines sensory play and imaginative play and those are two of my favorite things to encourage in Boogie.
Allison at Train up a Child
has a host of fun trays for her little boy, but the one that I liked best was the one where she actually gave him a hammer and nails to use in styrofoam. Boogie would feel like such a cool guy if I did this for him! I think he is still a bit young and uncoordinated but I feel inspired to give this a try in the near future after seeing how much fun both her boys had.
Amanda at Dirt and Boogers
(Can you tell she has a little boy? Love the blog title!) shared an incredibly simple and spontaneous tray activity that was a big hit with her little man and which I am going to pull out in a similar situation for mine. All you need is baby food jars and a few different colored and textured items! Toddlers can be entertained for ages just sorting, touching, pouring and dumping!
If you were featured this week, please feel free to use the button below!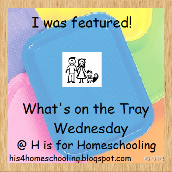 Now, it's on to the fourth week of What's on the Tray Wednesday!
The following rules are pretty standard across linky parties that I participate in, but it's all worth repeating :)
1. Link up a fun, kid-centered learning tray activity. Please link to the actual post, and not your homepage.
2. This linky party is only for activities that are contained- either to a tray, a bin, a workbox, a bag or whatever else you use to keep one activity in one place.
3. When you link up, please make sure you have included my What's on the Tray Wednesday button or a text link back to my site somewhere on your site (in the post, in your sidebar, on a linky party page). This way other people who are looking for tray activities can come back here and see what everyone else is doing.
4. I would love it if everyone who links up would become a follower of my blog via Google Friend Connect. If you leave a comment letting me know that you are a new follower, I will follow you back. It is always fun to "meet" new people who are doing the same types of things with their kids!
5. Each week, I will feature my three favorite trays from the previous week. So, if you link up, you are giving me permission to use one of your pictures. Hopefully, you will get some traffic on your blog as well :)
6. When you link up, I will visit your blog and comment on the wonderful things you are doing with your kids. Everyone loves feedback and encouragement!
7. Please comment on at least one other blog that has linked up. Again, people blog to connect with each other, and everyone appreciates being appreciated :)
WOTT is linked up
here
.
Can't wait to see what everyone shares this week!