Thanks for stopping by What's on the Tray Wednesday! This is a link party for trays, bins, boxes, and bags- basically any way that you contain an activity to help your child focus on one thing at a time and to clean up before moving on to the next thing. Last week we had 25 link ups! I hope you clicked on some of the other links when you linked up. I get so much inspiration from all of you!
I do not put a pin it button on my WOTT posts because the pictures are not mine. If you are reading this post and would like to pin an activity, please click the link and pin it from the original blog!
Without further ado, the most clicked link over the past week was
the weekly wrap up at Mama to 4 Blessings
! Nicole shared a simple, frugal activity that toddlers and preschoolers are sure to love- spooning marbles into a bottle. This is great for fine motor skills!
On to the three posts I chose to feature for the week.
Over at
Taming the Goblin
, the trays were all about color sorting and I had trouble choosing a favorite. I finally settled on the salt dough color sorting bowls because they are leagues above my yogurt cups used for the same skill. I am very humbled by those salt dough bowls and so I had to feature them!
Brittney at Mom's Heart
has made another great sensory bin and she gets more creative each time, including more skills, but still keeping the bins pretty as a picture! My favorite part of this bin is that she has a lot of hidden goodies contained in boxes that can then be used for sorting, dumping, pouring, opening and closing.
The last feature is
Jada Roo Can Do
because this post pushed me over the edge and I am going to get some water beads. I don't know if it was the hearts silicone cupcake mold, the pink water beads, or the fact that she describes the activity as both "bouncy" and "calming" but I have jumped on the bandwagon!
And a bonus feature because once again the picture didn't work in the link up and it is such a great post that it needs to be shared! Lisa at
Confessions of a Montessori Mom
posted a clear and easy explanation of how to give a lesson about zippers and snaps, Montessori style. As someone who is using a lot of Montessori ideas but not officially trained in the Montessori way, I appreciated the step-by-step instructions!
If you were featured this week, please feel free to use the button below!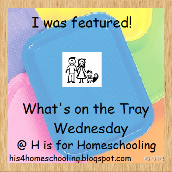 Now, it's on to another fun week at What's on the Tray Wednesday!
The following rules are pretty standard across linky parties that I participate in, but it's all worth repeating :)
1. Link up a fun, kid-centered learning tray activity. Please link to the actual post, and not your homepage.
2. This linky party is only for activities that are contained- either to a tray, a bin, a workbox, a bag or whatever else you use to keep one activity in one place.
3. When you link up, please make sure you have included my What's on the Tray Wednesday button or a text link back to my site somewhere on your site (in the post, in your sidebar, on a linky party page). This way other people who are looking for tray activities can come back here and see what everyone else is doing.
4. I would love it if everyone who links up would become a follower of my blog via Google Friend Connect. If you leave a comment letting me know that you are a new follower, I will follow you back. It is always fun to "meet" new people who are doing the same types of things with their kids!
5. Each week, I will feature my three favorite trays from the previous week. So, if you link up, you are giving me permission to use one of your pictures. Hopefully, you will get some traffic on your blog as well :)
6. When you link up, I will visit your blog and comment on the wonderful things you are doing with your kids. Everyone loves feedback and encouragement!
7. Please comment on at least one other blog that has linked up. Again, people blog to connect with each other, and everyone appreciates being appreciated :)
WOTT is linked up
here
.
To see our Football Tot Trays this week, click
here
. And then share what you are doing with your kids this week!