Thanks for stopping by What's on the Tray Wednesday! This is a link party for trays, bins, boxes, and bags- basically any way that you contain an activity to help your child focus on one thing at a time and to clean up before moving on to the next thing.
Disclaimer: I do not put a "pin it" button on my WOTT posts because the pictures are not mine. If you are reading this post and would like to pin an activity, please click the link and pin it from the original blog!
Once again,
Mama to 4 Blessings
entered the most clicked post last week! My favorite activity in her post was the way she used candy containers, foam shapes, and tongs to help her daughter practice fine motor skills and shape matching.
Now, here are the 3 posts I chose to feature!
I love how little Adeline over at
We Can Do All Things
has been enjoying travel trays so that she is learning on the go. Her clever mama uses velcro on cookie sheets so the possibilities of skills to target is limited only by what you can laminate or add velcro to! Awesome! I want to make one for Boogie for a couple vacations we are planning in the summer.
Allison at
Train Up a Child
made a wonderful sensory balloon matching game for her sons. There is a pair each of flour, rice, salt and seed beads. Her sons guessed what was in the balloons and had to find the balloon with the matching texture. So fun and creative!
Brittney at
Mom's Heart
expanded her Valentine's Day learning with her boys to include some science fun- they are learning a little bit about the human heart. The boys used a real stethoscope to listen to their heartbeats' and then set up a vet clinic and the whole thing turned into pretend play.
If you were featured this week, please feel free to use the button below!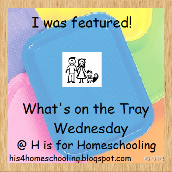 Now, it's on to another fun week at What's on the Tray Wednesday!
The following rules are pretty standard across linky parties that I participate in, but it's all worth repeating :)
1. Link up a fun, kid-centered learning tray activity. Please link to the actual post, and not your homepage.
2. This linky party is only for activities that are contained- either to a tray, a bin, a workbox, a bag or whatever else you use to keep one activity in one place.
3. When you link up, please make sure you have included my What's on the Tray Wednesday button or a text link back to my site somewhere on your site (in the post, in your sidebar, on a linky party page). This way other people who are looking for tray activities can come back here and see what everyone else is doing.
4. I would love it if everyone who links up would become a follower of my blog via Google Friend Connect. If you leave a comment letting me know that you are a new follower, I will follow you back. It is always fun to "meet" new people who are doing the same types of things with their kids!
5. Each week, I will feature my three favorite trays from the previous week. So, if you link up, you are giving me permission to use one of your pictures. Hopefully, you will get some traffic on your blog as well :)
6. When you link up, I will visit your blog and comment on the wonderful things you are doing with your kids. Everyone loves feedback and encouragement!
7. Please comment on at least one other blog that has linked up. Again, people blog to connect with each other, and everyone appreciates being appreciated :)
WOTT is linked up
here
.
To see our Valentine Tot Trays this week, click
here
. And then share what you are doing with your kids this week!