Better late than never! Thanks for bearing with me while my family recovered. And thanks to everyone who linked up over the past two weeks!
It's time for another fun week of What's on the Tray Wednesday! This is a link party for trays, bins, boxes, and bags- basically any way that you contain an activity to help your child focus on one thing at a time and to clean up before moving on to the next thing.
Disclaimer: I do not put a "pin it" button on my WOTT posts because the pictures are not mine. If you are reading this post and would like to pin an activity, please click the link and pin it from the original blog!
Because the party ran two weeks, I decided to do the features a bit differently. This week I will feature the top 3 most clicked, as well of 3 of my favorites.
Most Clicked:
At
Because They Love To Learn
, Chrissy shares a simple, frugal, colorful sensory activity that teaches color matching with conversation hearts. Such a great Valentine activity for little to no cost!
Deb at
Living Montessori Now
shares how simple it is to turn a craft activity into a Montessori tray. Here, she shows how to present a heart-making activity using pony beads and pipe cleaners. The presentation is lovely and the finished result is precious.
At
We Can Do All Things
, Adeline's mama uses pom poms to teach 1:1 correspondence and color matching. What can't you do with pom poms? They are so good for fine motor skills and provide a sensory experience.
Favorites:
Over at
Teaching My Blessings
, Trina shares many wonderful ideas that she did with her boys over Valentine's Day. My favorite tray was this frugal, colorful, fun fine motor math tray. Try saying that three times fast! Her boys will match the clothespin with the correct written number with the card with the correct amount of hearts.
Amanda at
Dirt and Boogers
has done it again. She provides an amazing sensory experience with the potential for a huge mess and a lot of fun! What toddler wouldn't love this? A sensory tub full of ice and jello, red and hearts? Perfect for Valentine's Day!
At
My Oatmeal Kisses
, Kate shares all kinds of Valentine activities, including book tie-ins, pretend play, and this wonderful fine motor, 1:1 correspondence activity using heart shaped cereal! How cool is that? Snacking and learning about the letter V at the same time!
If you were featured this week, please feel free to use the button below!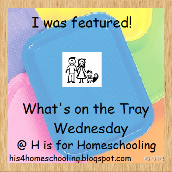 Now, it's on to another fun week at What's on the Tray Wednesday!
The following rules are pretty standard across linky parties that I participate in, but it's all worth repeating :)
1. Link up a fun, kid-centered learning tray activity. Please link to the actual post, and not your homepage.
2. This linky party is only for activities that are contained- either to a tray, a bin, a workbox, a bag or whatever else you use to keep one activity in one place.
3. When you link up, please make sure you have included my What's on the Tray Wednesday button or a text link back to my site somewhere on your site (in the post, in your sidebar, on a linky party page). This way other people who are looking for tray activities can come back here and see what everyone else is doing.
4. I would love it if everyone who links up would become a follower of my blog via Google Friend Connect. If you leave a comment letting me know that you are a new follower, I will follow you back. It is always fun to "meet" new people who are doing the same types of things with their kids!
5. Each week, I will feature my three favorite trays from the previous week. So, if you link up, you are giving me permission to use one of your pictures. Hopefully, you will get some traffic on your blog as well :)
6. When you link up, I will visit your blog and comment on the wonderful things you are doing with your kids. Everyone loves feedback and encouragement!
7. Please comment on at least one other blog that has linked up. Again, people blog to connect with each other, and everyone appreciates being appreciated :)
WOTT is linked up
here
.
Links away!