Another week, another Wednesday, another round of trays!!
Welcome to What's on the Tray Wednesday! This is a link party for trays, bins, boxes, and bags- basically any way that you contain an activity to help your child focus on one thing at a time and to clean up before moving on to the next thing.
This week, we are doing mitten tot trays. You can find my post
here
.
Disclaimer: I do not put a "pin it" button on my WOTT features because the pictures are not mine. If you are reading this post and would like to pin an activity, please click the link and pin it from the original blog!
This week I am making a change to how I do features. Honestly, guys, it was sometimes taking me over an hour to choose my favorite three because I love everyones' ideas. So, like some other link parties do, I am going to highlight the three or four most clicked links. I hope this change doesn't upset anyone!
Also, I am struggling with time management and have not been able to find time to do a
tot school
post in awhile. I started blogging because I fell in love with the tot school concept and wanted to share how Boogie was enjoying the purposeful playtime I was creating for him. I want to continue to create an online record of his learning, and in order to find time to do that, I need to change some things. So, I am going to narrow down how many link parties I join each week and I am going to host WOTT on a monthly basis (the first Wednesday of the month) for the time being. I will leave the party up for the month, so feel free to link up multiple times. If I find that I can get into a better blogging rhythm, I will increase it to a biweekly party. Again, I hope no one is heartbroken! I love seeing what all of you are doing and enjoy our "commentversations" :)
With all that said, on to features from last week!
Deb at Living Montessori Now
has a wonderful round up of Montessori-Inspired Dr. Seuss activities. One of our trays was included, which made me so happy! The tray pictured is one that I wanted to try but skipped this year because Boogie would just eat all the fish and ignore the numbers.
Brittney at Mom's Heart
put together some great activities for her boys in celebration of Dr. Seuss' birthday, including an alphabet scavenger hunt and puzzles. She also has activities for
One Fish, Two Fish, Red Fish, Blue Fish
,
Yertle the Turtle
, and The Cat in the Hat.
Allison at Train Up a Child
has a ton of Seuss posts that you should read through, but my favorite tray was this simple size sorting turtle activity. I could not think of anything for
Yertle the Turtle
even though I really enjoy the story. Now I have an idea for next year :)
Alex at Dancing with Dinosaurs
has this easy to put together color sorting tray using vehicles and colored paper. Boogie would LOVE this. I need to get those counters!
If you were featured, please feel free to grab the code for the button below!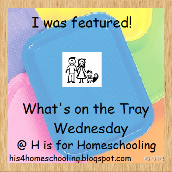 Now, on to WOTT 9!
The following rules are pretty standard across linky parties that I participate in, but it's all worth repeating :)
1. Link up a fun, kid-centered learning tray activity. Please link to the actual post, and not your homepage.
2. This linky party is only for activities that are contained- either to a tray, a bin, a workbox, a bag or whatever else you use to keep one activity in one place.
3. When you link up, please make sure you have included my What's on the Tray Wednesday button or a text link back to my site somewhere on your site (in the post, in your sidebar, on a linky party page). This way other people who are looking for tray activities can come back here and see what everyone else is doing.
4. I would love it if everyone who links up would become a follower of my blog via Google Friend Connect. If you leave a comment letting me know that you are a new follower, I will follow you back. It is always fun to "meet" new people who are doing the same types of things with their kids!
5. Each week, I will feature my three favorite trays from the previous week. So, if you link up, you are giving me permission to use one of your pictures. Hopefully, you will get some traffic on your blog as well :)
6. When you link up, I will visit your blog and comment on the wonderful things you are doing with your kids. Everyone loves feedback and encouragement!
7. Please comment on at least one other blog that has linked up. Again, people blog to connect with each other, and everyone appreciates being appreciated :)
WOTT is linked up
here
.
Links away!