Button(s):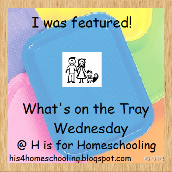 Rules/Suggestions for What's on the Tray Wednesday:
1. Link up a fun, kid-centered learning tray activity. Please link to the actual post, and not your homepage.
2. This linky party is only for activities that are contained- either to a tray, a bin, a workbox, a busy bag, or whatever else you use to keep one activity in one place.
3. When you link up, please make sure you have included my What's on the Tray Wednesday button or a text link back to my site somewhere on your site (in the post, in your sidebar, on a linky party page). This way other people who are looking for tray activities can come back here and see what everyone else is doing.
4. I would love it if everyone who links up would become a follower of my blog via Google Friend Connect. If you leave a comment letting me know that you are a new follower, I will follow you back. It is always fun to "meet" new people who are doing the same types of things with their kids!
5. Each week, I will feature my three favorite trays from the previous week. So, if you link up, you are giving me permission to use one of your pictures. Hopefully, you will get some traffic on your blog as well :)
6. When you link up, I will visit your blog and comment on the wonderful things you are doing with your kids. Everyone loves feedback and encouragement!
7. Please comment on at least one other blog that has linked up. Again, people blog to connect with each other, and everyone appreciates being appreciated :)
A suggestion- for your link name, fill in the theme of your trays (bin, workboxes, etc). People are more likely to click when they know the content as opposed to clicking on a blog title.
The linky parties go live on Tuesday nights and they will be open for a week each week.
What's on the Tray Wednesday Posts:
To be taken to all the What's on the Tray Wednesday posts, with the most recent first, click
here
.
WOTT is linked to: